Sunday, June 5, 11:00 a.m. — The Machine Opera Group presents "So You Think You Don't Like Opera?" – a program of words and music at the Iowa Arts Festival, downtown Iowa City.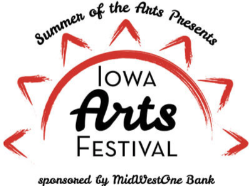 What do you think of when you think of opera? Do you think of Bugs Bunny and Elmer Fudd, belting out Wagner? Does that scene in The Shawshank Redemption come to mind, where Andy Dufresne locks himself in the warden's office to play a Mozart duet for the entire prison? Did you know that an opera, based on Jane Smiley's A Thousand Acres, is premiering at Des Moines Metro Opera this summer?
Or that Stephen King's The Shining became an opera in 2016, premiering on the stage of Minnesota Opera? Well, you can attend two brand-new operas a lot closer to home, when the Coralville Center for the Performing Arts hosts the Crescendo Children's Choir in Orphan Train: For the Love of Pete (June 18 at 7:30) and The Machine Stops: An Opera by John Lake and Cecile Goding (July 30, 7:30 and July 31, 2:00), both operas based on well-known stories. Somewhere in between, spend an evening under the stars at Brucemore with Gilbert & Sullivan's The Pirates of Penzance (June 16-18).
Stick close to the Ped Mall stage to hear poet David Duer talk about his first exposure to opera, which of course was not his first. Then, singers from The Machine Stops will tell us why opera appeals – before they perform a couple of their favorite arias. We'll finish with a word or two from UI Emeritus Edward Kottick, who has conducted scores of productions from Handel's Messiah to South Pacific.